Email Grappler is a software for desktop and mobile devices built to help users to hack into their lost email account and retrieve it back.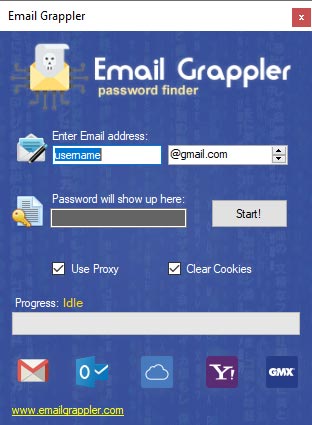 This program is built for both desktop and mobile operating systems, including:
– Microsoft Windows / macOS / Android / iOS
Select the app version for your device by clicking the download button below.
About The App
Many people across the world have lost their online account(s) at least once in their life. It can be due to forgetting a password, account getting hacked and stolen, or by other different factors.
In case users didn't make some other way to recover their account in case they lose their password, such as Two factor authentication "2FA", restoring access with phone number, or something similar, their account is on big risk of getting lost.
Our application Email Grappler is just what you need in situations like this. We managed to make it to successfully hack into all most popular email providers accounts of nowadays, including Gmail, Outlook (Hotmail), GMX, iCloud, Yahoo, Protonmail, AOL, Zoho, Lycos and many other ones. You can see the full list or clients inside the Email Grappler's upper-down box feature.
If for some case you are using any other email client provider, there is an option inside the tool to manually write a domain extension of desired e-mail account.
How the Tool Works?
The technology on which the Email Grappler is built on is called a "brute-force attack". To summarize it so everyone can understand how this tool functions is; It attacks a login page of given e-mail provider with thousands of combinations of possible passwords per minute, using a virtually made list of possible password combinations which contain every character or letter of which potential password can be made of. The app keep attacks a login page using an email client's address you've entered until it finds a matching password for desired account.
This process is customized differently to work properly on each e-mail provider.
The Email Grappler also comes with a pre-built proxy exchanger system which is connected via API with our private server from where software drains fresh IP address if there comes a block at login page after multiple unsuccessful tries. This gives it even an extra feature of reliability it will find desired password successfully.
Terms & Conditions
Because of the nature of our application and potential damage it can cause to users if it gets in wrong hands, we are forced to make a strict terms & conditions policy. The full policy is listed at the app's download page.
The main rule which you are agreeing with after downloading Email Grappler software is that it's prohibited to use this application to hack email accounts which does not belongs to you (you are not the original author of) or without prior permission from an actual owner that you can help them to recover back their account.
Else you are taking all the risks which may occur after aftermaths of unallowed usage.